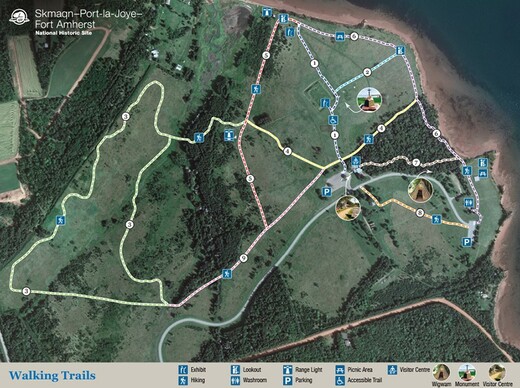 The lands and shores surrounding Skmaqn—Port-la-Joye—Fort Amherst National Historic Site have been part of historic Mi'kma'ki since time immemorial. The site was home to the Mi'kmaq, French, Acadian and British, where many friendships, alliances and conflicts were forged during the 18th century, setting the stage for what would become Prince Edward Island.
The grounds are open year-round for self-guided tours. Washroom facilities (lower parking lot area) will be open from June 26 to September 4.  The interpretive centre is open daily from July 1- August 29, 9-5 am. Parks Canada is working on a new site orientation video as well as new interpretive panels for the end of July. Stay tuned for more details!
Residents and visitors are invited to enjoy the beautiful 6-kilometre trail system at Skmaqn–Port-la-Joye–Fort Amherst, with stunning views of the Charlottetown Harbour.
For more information about this national historic site: https://parks.canada.ca/lhn-nhs/pe/skmaqn.
Please visit parks.canada.ca/pei and @PEInationalpark on Facebook for general updates.